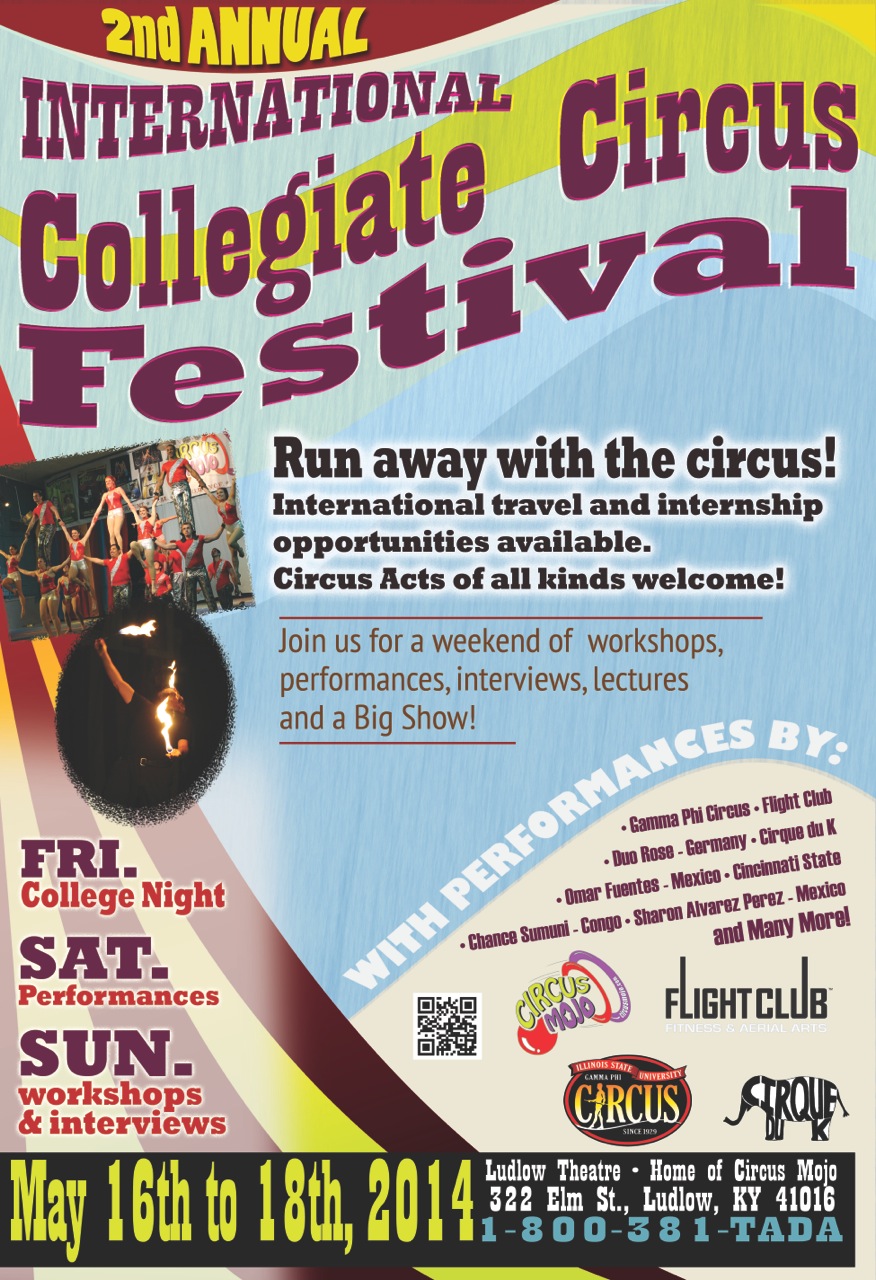 International Award Winning Trapeze Artists Are Featured With College Performers In Circus Arts Show At Circus Mojo May 17
Coming to Greater Cincinnati for the first time, internationally acclaimed trapeze performers – Duo Rose – will be performing with college circuses and students in a unique show for the public celebrating the talents of young people on Saturday, May 17 at 8:00 p.m. at Ludlow's Circus Mojo. (322 Elm St, Ludlow, Kentucky). It is all part of the three-day International College Circus Festival hosted by the Social Circus Fund and Circus Mojo.
The passionate, romantic duo trapeze performance of Duo Rose is a seamless flow of highly technical skills and intense passion creates a fluid aerial ballet that never fails to elicit a powerful emotional response. Originally from Chicago and now residing in Germany, Samuel and Sylvia have performed internationally and competed in 7 international circus festivals winning 12 awards. In August 2010 they made history becoming the the first American circus artists to perform in Havana, Cuba since 1959.
Performing with Duo Rose will be some of the most sought after college circus groups in the world including Gamma phi Circus (the oldest collegiate circus in the U.S. at Illinios State University) and Cirque du K Kalamazoo; artists from Denmark, Mexico, Germany, Ireland, and the Congo; graduates of well known circus schools such as the New England Center for Circus Arts and the Circus Center San Francisco – as well as the young adults attending the three day Festival.
This is the second year for the Festival aimed at teaching college-aged young adults from around the country important life skills and encouraging them to pursue a passion. It will include workshops, performances, networking and interviewing for job and volunteer opportunities – here and abroad. Registration for the weekend Festival is $50 online and $75 at the door. Click here to register for the festival.
Festival Show specifics
Ticket cost for the Saturday evening show is $10 for adults; $5 for children under 12; and $25 for VIP tickets. All proceeds from the show will benefit The Social Circus Fund, a nonprofit foundation dedicated to bringing circus to those who need a smile. Tickets are available at the door or can be purchased at https://circusmojo.cincyregister.com/collegefest2.
About The Social Circus Fund: Founded in 2013 The Social Circus Fund is a nonprofit 501c3, raises funds to support programs using circus as tools for social change and in medical settings. Many of the people we serve have limited resources. The fund will serve as a clearinghouse for scholarships and to educate and study the application of circus in non-traditional settings.
About Circus Mojo: Founded in 2009 by former Ringling Bros. and Barnum & Bailey clown Paul Miller, Circus Mojo engages people of all ages to focus on abilities in hospitals, boardrooms, events, workshops, and other venues.
# # #