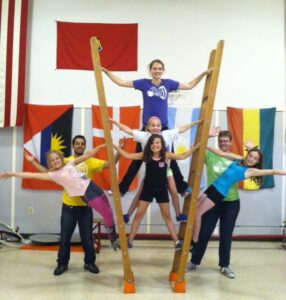 We have two weeks of summer camp for 2023! June19-23 & July 31-August 4
Camp runs Monday through Friday 9:00am to 3:00pm with a 2:00 show on Friday for friends and family.
Before and after care is available from 8:00am until 5:30pm (must pre register for before/after care)
Circus Mojo Summer Camp is open to participants ages 8 to 17
Summer Camp is $300 per camper.
and a little more:
To date Circus Mojo has donated over $25,000 of Summer Camp to area schools, non-profits and benefit causes. This year we are again offering two options for Summer Camp payment. You can pay the standard $300 or for $350 you can help the Social Circus Foundation 501c3 too! If you choose the option with Donation, you will be charged $175 now and then on the first day of camp, bring a check for $175 made payable to the Social Circus Foundation.
You get a tax deduction and a kid in need gets a chance to grow!
If you have questions please contact us at 1-800-381-8232 or info@circusmojo.com