Corporations, from financial firms to construction companies, boost company morale by trying new skills, team building, and showcasing employee mojo. Jumpstart or wind down the work week with a renewed sense of focus, creativity, and teamwork.
Our mission is to teach and present the circus arts with a fresh perspective and encourage everyone to express their unique mojo—talent, zeal, confidence, drive, and spirit.
AVAILABLE FOR:
• 5-100+ people
• Half day, full day and full day + evening show
• 15 activities to choose from ensuring participation for all
• Circus Mojo Center or your venue
• Complete catering options available
• Private meeting space
• Wireless Internet and A/V
• Fully licensed and insured with references

Team Building
"I have known Paul for years on a personal level, but a few weeks ago I was able to engage with him on a professional level; my admiration for who he is and what he does increased ten-fold. We had him and his company, Circus Mojo, come in to lead my company's quarterly team building exercises. Normally we go golfing, or plan some kind of function that everyone enjoys, but this time we had people spinning plates, rolling around the rooms in giant wheels, juggling, and demonstrating feats of balance. Everyone had fun. Unlike many of our previous events that focused primarily on relaxation, it was immediately evident that our employees felt closer together as a team. The exercises we participated in stressed the importance of inter-reliance, as well as having a good time. I would higly recommend Paul and Circus Mojo to any business that is looking for a unique and effective way to improve teamwork in the workplace. Thanks Paul!"
— Gaby Batshoun, President of Global Business Solutions, Inc.

Corporate Events
"Circus Mojo held a staff development in-service for my staff. With laughter, out-of-the-box thinking and encouragement, the Mojo team helped everyone develop greater rapport, trust and confidence in one another. The combination of circus tricks and activities created new partnerships and newpartnerships and new possibilities."
— Eric Dustman, Head of School at The New School Montessori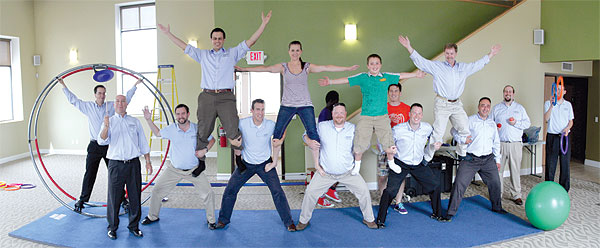 Email info@circusmojo.com for more information on Corporate Workshops!
Circus Mojo Brochure – Corporate Retreats & Team Building (pdf)