International Award Winning Trapeze Artists Are Featured With College Performers In Circus Arts Show At Circus Mojo May 17
Coming to Greater Cincinnati for the first time, internationally acclaimed trapeze performers – Duo Rose – will be performing with college circuses and students in a unique show for the public celebrating the talents of young people on Saturday, May 17 at 8:00 p.m. at Ludlow's Circus Mojo. (322 Elm St, Ludlow, Kentucky). It is all part of the three-day International College Circus Festival hosted by the Social Circus Fund and Circus Mojo.
The passionate, romantic duo trapeze performance of Duo Rose is a seamless flow of highly technical skills and intense passion creates a fluid aerial ballet that never fails to elicit a powerful emotional response. Originally from Chicago and now residing in Germany, Samuel and Sylvia have performed internationally and competed in 7 international circus festivals winning 12 awards. In August 2010 they made history becoming the the first American circus artists to perform in Havana, Cuba since 1959.
Performing with Duo Rose will be some of the most sought after college circus groups in the world including Gamma phi Circus (the oldest collegiate circus in the U.S. at Illinios State University) and Cirque du K Kalamazoo; artists from Denmark, Mexico, Germany, Ireland, and the Congo; graduates of well known circus schools such as the New England Center for Circus Arts and the Circus Center San Francisco – as well as the young adults attending the three day Festival.
This is the second year for the Festival aimed at teaching college-aged young adults from around the country important life skills and encouraging them to pursue a passion. It will include workshops, performances, networking and interviewing for job and volunteer opportunities – here and abroad. Registration for the weekend Festival is $50 online and $75 at the door. Click here to register for the festival.
Festival Show specifics
Ticket cost for the Saturday evening show is $10 for adults; $5 for children under 12; and $25 for VIP tickets. All proceeds from the show will benefit The Social Circus Fund, a nonprofit foundation dedicated to bringing circus to those who need a smile. Tickets are available at the door or can be purchased at https://circusmojo.cincyregister.com/collegefest2.
About The Social Circus Fund: Founded in 2013 The Social Circus Fund is a nonprofit 501c3, raises funds to support programs using circus as tools for social change and in medical settings. Many of the people we serve have limited resources. The fund will serve as a clearinghouse for scholarships and to educate and study the application of circus in non-traditional settings.
About Circus Mojo: Founded in 2009 by former Ringling Bros. and Barnum & Bailey clown Paul Miller, Circus Mojo engages people of all ages to focus on abilities in hospitals, boardrooms, events, workshops, and other venues.
# # #
The City of Ludlow, Kentucky will be kicking off their 150th Anniversary Celebration on Thursday, February 20, 2014; 5:00 - 9:00pm at The Ludlow Theatre ~ Home of Circus Mojo.

There will be live music and a circus performance as well as a word from the current leaders of Ludlow and displays by civic organizations.

If you are in the area, we encourage you to come to the celebration, especially residents or former residents, this is a great opportunity to see old friends and meet new friends. The City will be providing hors d'oeuvre and the concession stand will be open.
CINCINNATI (Jeff Hirsh)-- And now, ladies and gentlemen and children of all ages. Presenting: Circus Mojo! Just like the Ringmaster always says, this circus indeed does have children, children of all ages. Founder and owner of this circus with a purpose, Paul Miller says,
"All the kids who stayed in school and did the path most people did were bussing tables and bike messengers, and I would balance a chair on my chin at the end of the audition and I'd say, 'Hey, that's my special skill!' and the casting directors were like, 'Wow!'"
Wow indeed. Circus Mojo, in the old Ludlow Theater, is a chance for kids in a summer camp program to see the world differently. Perhaps completely upside down from what they're used to. Miller goes on, "Cincinnati is such a conservative place, and we go to our chili parlor on tuesdays, we go to Jimmy Buffet, we go to one sport and we hit the same condo the same week every year. So I'm really trying to break some of that mold." Break that mold by teaching kids there's a great big world out there and it's all yours to walk on. One of Circus Mojo's young performers, Ian Ward, says of the tricks, "Sometimes it's kind of scary because you never know when you're going to lose your balance and fall off."
Sort of like life. Try to keep things in balance, you'll get it. The oldest kid at Circus Mojo, and the first to admit it, is Paul Miller, Clown in Chief. "I wouldn't know what I would do if I didn't do this. I mean if I got 20 million dollars a year I'd do the same thing." Miller was always the class clown in school, but he took it further. Paul dropped out of the University of Cincinnati's College Conservatory of Music, and was accepted into the Ringling Brothers, Barnum and Bailey Circus Clown School. "That was before the internet and before Google. I had to go to the library, the card catalog, and get a microfiche of a USA Today article which said it was more prestigious than Harvard Medical School. That's what I gave to the Dean and gave to my parents and said, 'Hey, I'm going to do this.'" Paul toured with Ringling Brothers for a couple of years in the mid 90s. Also clowned his way around the world in places like Japan, and acted on TV shows in New York.
But eventually, Paul returned home to conservative old Cincinnati and decided to shake things up a bit. In 2009, not long after his daughter was born, Paul bought the Ludlow Theater, and Circus Mojo was born. "I do this work because it's needed." Needed, Paul says, to make people smile when you'd think they would frown. Like performing for the kids at Children's Hospital. "And then we say things like, 'Don't try this at home, try it at school where you have a better audience.' And of course they know we're not being serious, they're not really going to try it at school, but the kids look at their parents and go, 'Ha ha ha, this is good!'" As for the campers, they put on a show for their parents at the end of camp week.
But Circus Mojo is not a circus training program, not Ringling Brothers Junior. Rather, it's a circus with a purpose. Like to meet new people, the counselors are circus performers from Mexico, Europe, and Africa. And by learning to stay on the ball or juggle or stay on the wire, these kids learn about themselves. Conquering fears and building self esteem. Think you can't do it? Think again! And that, ladies and gentlemen, is the "mojo" in this circus. Paul says, "Well that's the mojo, right. You get knocked down and you get back up. That's the mojo." And just like the Ringmaster always says, the circus is for children of all ages

Read More at: http://www.local12.com/community/features/community-news/stories/circus-purpose-circus-mojo-148.shtml
Paul Miller started out as a clown with Ringling Bros. and Barnum & Bailey. He founded Circus Mojo, a circus arts program for children and adults, in 2009, and will be opening the Institute of Social Circus & Vocational Training Center in Ludlow, Ky., next year.

The Institute of Social Circus will be the first training center in the world dedicated to teaching adults circus techniques, team building skills and social work principles for the purpose of training, educating and meeting the needs of disenfranchised youth, hospitalized people and youth in juvenile centers or other institutions.

The Institute for Social Circus is developing a certification program in applying circus training with three focus areas: youth, medical settings and adults who are seniors and/or have disabilities.
Click Here for the entite story from Cincinnati Soapbox.com

(From McKnights- click here for original story http://bit.ly/1aawlsn)
Shuffleboard. Bingo. And juggling, plate spinning, hat tricks and tightrope walking.
This might be a typical nursing home activities schedule — if more centers follow the lead of Providence Pavilion in Covington, KY.
In six one-hour sessions, professionals with the group Circus Mojo led Providence residents in activities with physical, emotional and cognitive benefits, says Rosemary Weathers Burnham, the communications ringleader for the 82-bed rehabilitation and nursing center.
For example, in learning how to flip a derby hat up their arms onto their heads, participants engaged their bodies, sharpened their concentration and exercised their creativity and playfulness, Burnham notes.
"The engagement struck me the most," she says. "People come alive right before you."
Each session attracted an overflow crowd. Residents unable to stand or grasp an object received assistance, but many showed surprising strength and dexterity on their own.
"People who you didn't think were capable, were extremely capable," Burnham says.
A doctoral student is studying the program's benefits. Burnham believes the research may support wider adoption in long-term care.
"We see it as a model," she says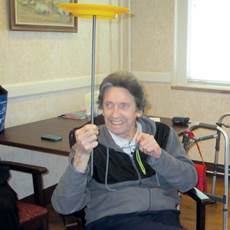 Resident Don Martin says he likes learning Big Top tricks.
.
Fewer than 18 hours after planting his feet on the soil of an unfamiliar country, 18-year-old Wawan Kuriawan fearlessly climbed onto a stranger's shoulders and confidently threw fluorescent rings high into the air.
Wawan is from an impoverished fishing village in Jakarta, Indonesia. This summer, he will stay in the small, river town of Ludlow.
He's a part of a movement formulated around the philosophy of Paul Miller, founder and owner of Circus Mojo, who uses circus training and performances to improve one's well-being. He's also working to revitalize Ludlow by making his headquarters in a former theater and buying a church for future education space.
College circus groups from across the globe and across the United States are coming to Ludlow, Kentucky May 3 to 5 for Circus Mojo's first ever International College Circus Festival. The three-day event will include performances for families, workshops for college aged students, and concluding with interviews for fun local jobs with Circus Mojo and volunteer opportunities with partner circuses abroad.
The International College Circus Festival will be held at Circus Mojo headquarters: 326 Elm St; Ludlow, Kentucky 41016.
Performances
Leading workshops and performing with public shows at the International College Circus Festival will be some of the most sought after college circus groups in the world including Gamma phi Circus (the oldest collegiate circus in the U.S.), Cirque du K Kalamazoo, Flight Club Bloomington, Flight Club Bloomington, Kibera Social Circus from Narobi (Kenya), Omar Fuentes of Mexico 's Circo Callejero, and Hidung Merah Circus from Jakarta (Indonesia).
Also performing will be 18 year old Wawan Kuriawan from an impoverished village in North Jakarta, Indonesia. Kuriawan dropped out of school in the 6th grade when his family was unable to pay for his education; and in 2009 joined the Red Nose Foundation. Circus Mojo is sponsoring his visa to study circus arts in town this summer.
Kicking off the three day event will be a welcome party Friday evening for college students. Saturday will feature two shows – a matinee and an evening performance – by the featured college circus groups for the public. (Please see below for ticket details.) And Sunday will be student workshops and interviews for jobs and overseas volunteer opportunities.
Employment Opportunities
Circus Mojo is hiring college aged talent in a variety of areas including performers, photographers and videographers, community outreach, hospitality, office skills, and more.
Additionally, Circus Mojo is searching for interns (ages 18 to 22 who are high school graduates or who have a GED) to receive training in circus skills which they will be taught to adapt to social development in health and wellness fields.
Some of the company's international partners will also be on hand at the Job Fair to interview for overseas volunteer opportunities including: Kenya Meshu Tamrat with Kibera Social Circus in Africa (just outside Narobi) and Indonesia Circus Mojo. (For a complete list, please contact Circus Mojo.)
About Circus Mojo
Founded in 2009 by former Ringling Bros. and Barnum & Bailey clown Paul Miller, Circus Mojo engages people of all ages to focus on abilities in hospitals, boardrooms, events, workshops, and other venues. With three focus areas – entertainment, education and community development – its programs and performances are designed to unlock personal talent, confidence, drive and spirit.
# # #
Circus Mojo International College Circus Festival Specifics
Where: The Ludlow Theatre ~ Home of Circus Mojo 322 Elm Street Ludlow, Kentucky 41016
When: Friday night welcome party beginning at 8 pm (for college students)
Saturday shows for the public Matinee at 3:00
Show at 8:00
Sunday workshops and interviews beginning at 10 am
Cost: Friday welcome party – FREE
Saturday – 3 pm matinee - $5 for adults and kids are FREE
8 pm - $10 for adults and kids are $5
Tickets available at the door