(From McKnights- click here for original story http://bit.ly/1aawlsn)
Shuffleboard. Bingo. And juggling, plate spinning, hat tricks and tightrope walking.
This might be a typical nursing home activities schedule — if more centers follow the lead of Providence Pavilion in Covington, KY.
In six one-hour sessions, professionals with the group Circus Mojo led Providence residents in activities with physical, emotional and cognitive benefits, says Rosemary Weathers Burnham, the communications ringleader for the 82-bed rehabilitation and nursing center.
For example, in learning how to flip a derby hat up their arms onto their heads, participants engaged their bodies, sharpened their concentration and exercised their creativity and playfulness, Burnham notes.
"The engagement struck me the most," she says. "People come alive right before you."
Each session attracted an overflow crowd. Residents unable to stand or grasp an object received assistance, but many showed surprising strength and dexterity on their own.
"People who you didn't think were capable, were extremely capable," Burnham says.
A doctoral student is studying the program's benefits. Burnham believes the research may support wider adoption in long-term care.
"We see it as a model," she says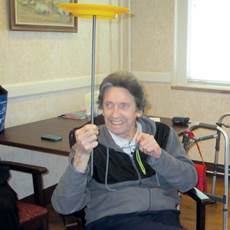 Resident Don Martin says he likes learning Big Top tricks.
.