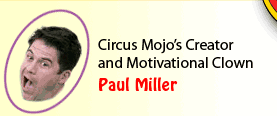 Paul Hallinan Miller has assumed the archetypal role of the clown with gusto and has used his vision and determination to become an entrepreneur in the circus arena and beyond. After successfully gaining admission to the prestigious Ringling Bros. Clown College, he dropped out of the University of Cincinnati College Conservatory of Music (CCM) and accepted the opportunity to tour with what is trademarked "The Greatest Show on Earth." In 1998 Paul returned to graduate with a degree in Dramatic Performance from CCM, where last year he served as an adjunct faculty member teaching circus "movement."
After college Paul worked as an actor and clown in NYC, even landing recurring roles on soap operas, and performed in a nightly cabaret in Japan. In 2001 he moved to Chicago and created CircEsteem, a youth program based on building self-esteem through circus skills. He stepped down from CircEsteem and moved back to his Kentucky roots with his wife and two children in 2008.
The following year Paul created Circus Mojo with a focus on three rings: entertainment, education and community development. Circus Mojo's programs and performances are designed to unlock personal talent, confidence, drive and spirit. Circus Wellness is one of its ongoing programs at Cincinnati Children's, Texas Children's and Rush Memorial Hospital in Chicago. Paul has been a guest and keynote speaker on his work in hospitals at arts and healthcare conferences in Berlin, Jerusalem, Stuttgart, Sydney and Tampere, Finland. In 2014 he received the Distinguished Fellow Award from the Arts and Health Alliance.
His worldwide connections are putting Ludlow, Kentucky on the global map. Paul created the International College Circus Festival and hosted it at The Ludlow Theatre in 2013 and 2014. This spring, with help from the U.S. State Department, he will produce the festival in Mexico City. He also has maintained an educational exchange and partnership with Circus Pimparello, a youth circus in Germany, for 10 years. To date, students, performers and trainers have visited The Ludlow Theatre from 19 countries: Antigua to Argentina, Germany to Ghana and Sudan to Suriname.
In 2013 the City of Ludlow sold Paul a former church, which is currently under renovation with funds from the KY Department of Tourism. The goal for this building is to become the first center in the U.S. dedicated to the vocational training of circus in nontraditional environments. Paul set up the Social Circus Foundation in 2013 to support this initiative. For over 12 years, he has partnered with Cirque Du Soleil to promote the growth of social circus. He plans to use state and federal historic tax credits to restore the original marquee and expand The Ludlow Theatre into the Bircus Brewing Co., a microbrewery licensed from Circusplaneet from Ghent, Belgium. While unconventional, Paul's model for the brewery stems from the maxim—concessions fuel the circus!

Letter of Recommendation: Navy Pier, Chicago
Letter of Recommendation: Francis W. Parker School
Letter of Recommendation: Sacred Heart School